Coby Langham, Company driver, Downey & Sons
Age: 42
Past jobs: Roofer, heavy equipment operator
Ever stumbled across a recording artist on the web whose stuff was so good you were left dumbfounded by the fact that they weren't more widely known? For me, Coby Langham fits squarely in that category; but here's the icing on the cake -- he's also a trucker. His gorgeously crafted songs run the gamut from gear-jamming toe-tappers to ballads bursting with Southern Gothic poetry, gleaned from the fertile fields of Kentucky's opioid crisis, songs so clever they'll find you laughing audibly, or, as the case may be, so truthfully elegiac even the most stoic listener's liable to crack wide open.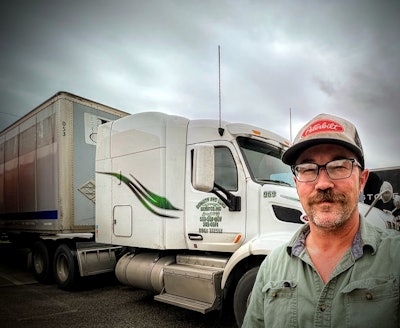 Year 2019 had been a banner one for Langham. His Coby Langham and The Citizen Band EP, "Years on The Road," was being mentioned in the same breath as Tyler Childers' "Country Squire" and Sturgill Simpson's "Sound and Fury" by the publication "Kentucky Country Music," which dubbed Langham's effort one of the commonwealth's 10 best that year.
Something seismic was going on in the Bluegrass State. One writer called it a "country music insurgency," and artists like Simpson and Childers were at the vanguard. But Langham was quietly making a mark of his own, with his own style.
"I would consider it honky-tonk music," he told me when I finally got the opportunity to meet him this year at the Mid-America Trucking Show. "That's a lot of what I gravitate towards. It's what I listen to. When someone listens to it, I want them to say, 'I'm listening to country music.' The actual sound comes from my friend Tom Hnatow out of Lexington, who produced all the stuff we've done so far, and he played all the steel guitar parts."