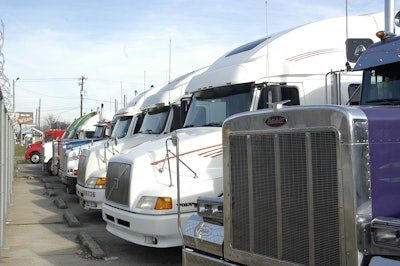 The market for used trucks, favored by owner-operators in a majority of purchases, has been good in recent times. Thanks to a higher volume of newer used trucks becoming available, prices have dropped. Also, interest rates, particularly for those with good credit, are in owner-operators' favor.
EVALUATE COMPONENTS AND FUEL EFFICIENCY. The model alone tells you very little. Because trucks can be spec'd so many ways, you need to know much more about components in a particular vehicle — the engine, transmission, rear-end ratio, horsepower and torque settings, component weights and weight limits, etc. These specs can impact your profitability, so make sure you get the right truck for the job.
With your application in mind (type of freight, regions of haul, expected weight, etc.), spec the truck from the bumper to the mudflaps. The first two priorities are always fuel mileage and low maintenance costs.
The things to consider include the body style, engine, transmission, rear-end ratio, tire sizes and styles, weight, accessories, auxiliary power units or other idle reduction technology, mileage, sleeper size and more. Specs properly matched to your application also contribute to better fuel economy. Most used trucks were not spec'd for optimal fuel mileage, so dig deep to find what you need.
START YOUR SEARCH. Many online resources are available to search for used trucks. A simple Google search will get you started. List all truck models that might meet your criteria. In the beginning, you might want to try to match your criteria exactly, but if you are having trouble, lighten up a bit on the requirements. Give yourself plenty of time for research: 30 to 60 days is not out of the question. Be persistent.
One of the best sources is EquipmentExperts.com, operated by Overdrive publisher Randall-Reilly. It's a used equipment marketplace representing many dealers. It includes verified owner reviews, articles from Randall-Reilly's award-winning editors, equipment comparison tools and specs.