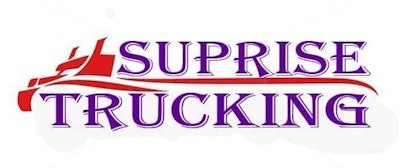 Trucking nearly broke the Stoll family. Literally and figuratively. Several times.
While unhooking a trailer full of toilet seats for Bemis, Bryon Stoll was struggling to get the landing gear to budge. Slowly, it started to move. Barely.
Bryon readjusted his feet and mustered all his might. He was going to drop this trailer, and with a final hefty crank "the handle came off in my hand," he recalled. "My feet stayed planted but from the waist up I twisted and leaned back at the same time, just from the sheer force of it."
The combination of force and motion shattered one of his vertebrae. That was the end of his trucking career, or so he thought. Bryon had a spinal infusion to repair his back and joined a small local company as its systems administrator. He also joined the local volunteer fire department, "and the work I did with the fire department and getting certified as a fire firefighter and EMT," he said, "I guess it helped strengthen my core muscles. And all of a sudden my back problems went away."
Bryon and his wife, Holly, were in the process of establishing their young family when fate struck yet again.
"After about five years on the department, I answered a call for a house fire right across the street from where we were living and broke my tibia and my fibula in my left leg," Bryon recalled, "and that put me down and out."