Outside looking in, it might have looked like the Biden Administration was on a roll, of a fashion. Influential trucking organizations had lauded much of what the infrastructure bill passed last year in Congress stood to do for the nation's roads in the years to come. A variety of businesses and organizations were lining up to sponsor registered apprenticeships in response to the administration's late-year 2021 call for such, ultimately part of a Trucking Action Plan some felt might help alleviate pressures many trucking newbies experience getting a footing in the business.
Department of Transportation Secretary Pete Buttigieg was saying the right things on truck parking, if the long quest for dedicated, specifically earmarked funding continued to be just that.
In early April, the White House invited a bevy of trucking reps to the White House, where it touted that Trucking Action Plan and spoke to tackling issues of compensation, working conditions, parking and undue detention long of concern to so many of those who do the real work of trucking.
It wasn't just D.C.-area businesses or industry association-affiliated lobbyists who attended that event. Here's North Carolina-headquartered owner-operator William McKelvie at the moment of his brief talk and handshake with the President on that day.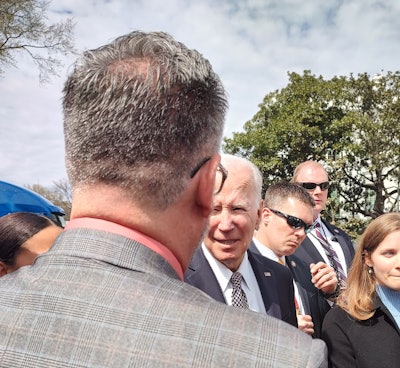 McKelvie got the invite from the President's office itself a few months after participating in a December hearing in South Carolina, where he shared concerns of owner-operators across the country, some affiliated with a group called Truckers Movement for Justice, others (like him) unaffiliated with established associations. At the December 18, 2021, meeting in Charleston, McKelvie voiced "concerns that had been brought to me from different truckers, across the nation," he said. "During the meeting, the main purpose of TMJ was to discuss the fact that drivers are not being paid for all hours worked, nor wait time, or other accessorial charges that the companies receive," when it's the drivers doing the actual work.