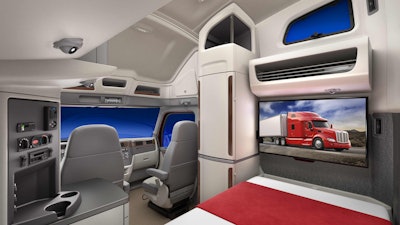 Peterbilt Motors Company introduced Thursday the UltraLoft, a new 80-inch sleeper configuration for its Model 579 tractor that brings an integral cab design to the product range to enhance ergonomics and driver comfort.
The UltraLoft spec is now available for order, and production is expected to begin in July.
"Discrete sleepers have served us extremely well and we'll continue to offer those for our customers, but the fully integral cab closes a gap that we had in our product line and will provide access to new customers that demand the extra space of a loft product," said Peterbilt's Robert Woodall. "Even drivers running in single applications want more space and amenities, and that was the driver behind our response with the UltraLoft product. This makes it an ideal truck for team drivers, training scenarios and customers that want to maximize aerodynamic performance and driver comfort."
Peterbilt solicited input from hundreds of drivers during the UltraLoft's design phase, including visits to truck stops to watch how drivers interact with current product and input from customer council groups and Women in Trucking.
The UltraLoft is available with or without Peterbilt's Epiq aerodynamic package and offers a 2 percent aerodynamic efficiency improvement and 1 percent gain in fuel efficiency over a similarly spec'd discrete cab configuration, the company says.
Available in single- and dual-bunk configurations, the UltraLoft's new interior comes standard with 70 cubic feet of storage space, with an additional 14 cubic feet of shelving available on the single-bunk configuration. Peterbilt also added lockable storage bins above the driver and passenger doors that have enough space to accommodate two CPAP machines.