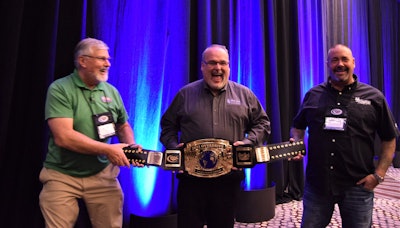 If you've missed the news as yet and you're one among the many multi-truck owners in the audience, entries are open for the 2022 edition of Overdrive's Small Fleet Championship. Eligible owners will have operated through the entire year of 2021 with at least three power units and no more than 30. Finalists will be recognized, and the winners crowned this year in two categories, at the October annual conference of the National Association of Small Trucking Companies, sponsoring the program for the second year running.
I thought to check in with one among last year's finalists -- the predominantly dry van hauler Rob Hallahan of Hallahan Transport, fresh off a second place category finish with his Joke's on You Peterbilt 389 in the PKY custom competition at the Mid-America Trucking Show. (The 2022 389/van combo also scored a third in Custom Paint, Hallahan said. The owner's got plans for a companion, brand-new Kenworth W900 unit designed similarly that will get under way this coming week, he said, if the creek don't rise at the truck plant. The build's scheduled for April 11, knock on wood.)
2021 was an award-winning year for the now 12-truck fleet. That's right, Hallahan's fleet's continued to grow since Overdrive's profile of the business ahead of the Small Fleet Champ's naming at NASTC's conference in November last year. His Joke's on You custom combo also bagged a No. 1 in the virtual Overdrive's Pride & Polish last summer, followed by the Small Fleet Champ finalist placement and Great West Casualty's honor for safety performance through year 2020. (He's set to receive that commendation yet again for 2021 safety performance -- "no claims," Hallahan said, describing the reason behind that award, "no accidents, no tickets.")
He's gone six years now, even with recent-years growth, without a single claim, in fact, "a big deal" on America's rough and tumble highways, he said.