How are you coping with the rising cost of fuel? There are many strategies for improving fuel efficiency, but given leased owners like David Nihart (leased to Landstar) recently underscoring the huge value of carrier partnerships when it comes to steep discounts at the pump, independents can feel hamstrung when it comes to the potential for volume buying that delivers such discounts. As John Henderson noted in this linked report, though, bulk fuel buying isn't out of the question for a one-truck operator. Henderson pointed to his bulk contract with MFA Oil in his Midwest region -- a quantity-bound fuel contract that doesn't depend on bulk delivery to a central location.
[Related: A path toward bulk fuel buying could be under your nose]
The fuel program of the National Association of Small Trucking Companies is well-known for sizable pump discounts in-network for association members given the volume it can promise fuel stops. For one-truck carriers, attendance at one of NASTC's monthly New Entrant Survival Training seminars at company headquarters opens up the possibility of participation in the program and membership.
Independent operator Joey Terra, too, pointed to avenue I hadn't been aware of when we talked last week. Regular readers may recall the Texas-based independent from my story about his hotshot trucking business, when we last covered hotshot trucking in-depth via close looks at three different owners.
If that doesn't jog your memory ...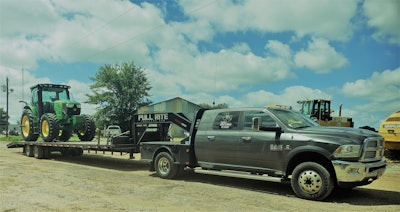 Terra's since suffered setbacks when it comes to the hotshot, with a mechanical issue in the motor, a decision to rebuild, and a repair mishap that has left the rig sitting now for upward of a year. After several different moves he's now in what you might call an upgrade, certainly in size, as it were.