One of the very first things Michael A. Manuel did when I met him at the fifth annual Gear Jammer Magazine Truck Show, ongoing in New Hampshire, was call across the Monadnock Speedway to an employee driver and ask how many miles his 2019 Peterbilt 389 had on it.
As it would turn out, 329,000 miles, in fact. "They work," Manuel said of his fleet of some 40-odd Peterbilts, the majority of which are newer, decked out, and with long hoods.
Manuel himself stood polishing the bright hubs of a 2015 389 that had been custom-cut to show puzzle pieces, reflecting the character of many of the other hundreds of custom touches around the impressive rig.
The puzzle-piece theme, seen virtually everywhere on the truck either engraved, etched, or even welded on like tiles (from the back of the cab to the fifth wheel), represents the truck's purpose: raising awareness and support for people with autism.
The rig, Manuel's 2015 flagship, dubbed "One of Many," was hooked to a new-looking conestoga flatbed that spelled out the cause, as well as the name of his daughter, Kara, herself one of more than 5 million U.S. adults living with autism. Based in Front Royal, Virginia, Manuel prides himself on long-running relationships with employee drivers and customers, probably as much as he does his trucks.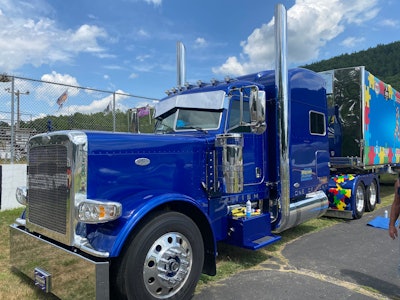 "I'm a Peterbilt guy and we have 41 of them," he said. "Bricks, shingles, lumber, that's basically what we haul. It's busy. If anybody wants to work, if you want to haul building materials, there's work."