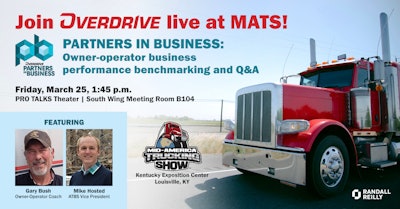 The long-running Partners in Business program is a coproduction of Overdrive magazine and the owner-operator business consultants and tax specialists at ATBS. The owner-operator business-focused program is excited to return this year with an in-person seminar at the Mid-America Trucking Show Friday, March 25, at 1:45 p.m. local time.
There, Overdrive and ATBS will launch the 2022 update of the in-depth Partners in Business manual and feature a market update presentation and Q&A with ATBS Vice President Mike Hosted, with Overdrive Extra contributor and former owner-operator and current business coach Gary Buchs on hand as well.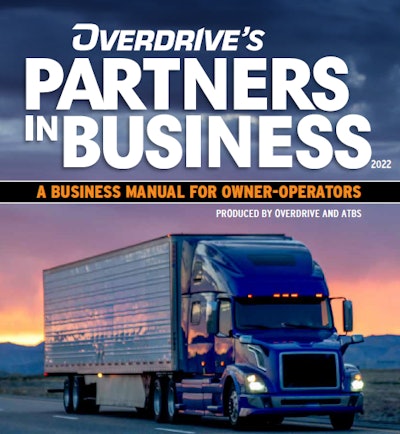 How did the topsy-turvy 2021 year shape up for owner-operator income, which has trended up in recent years? What can we expect for the remainder of 2022 in terms of bedrock economic conditions and more? Mike Hosted will present short- and long-term business trends with year-end 2021 revenue, cost and income performance derived from ATBS owner-operator clientele in independent and leased dry van, refrigerated and flatbed segments.
The numbers provide benchmarks against which to measure your operation, also providing a springboard for discussion around expected conditions through the end of the year, business best practices, and much more.
It's probably never more useful in a time of both rising rates and big inflationary pressures on costs all around. Maintaining the delicate balance between the two will be key to continued success.
If you're attending MATS this year, back live after having to cancel two years in a row due to the pandemic, join us, Overdrive Editor Todd Dills and Hosted and Buchs for the event.