Owner-operator Howard Salmon wasn't just taking refuge from the dramatic run-up in fuel prices with his slightly longer-than-is-typical, four-month bit of winter downtime January-April this year. As you can see in the video above, Salmon remade his 1999 Kenworth W900's interior with repurposed wood whose previous life had been as dunnage cast off from a load delivered to a friend.
Salmon lined both doors with it, built a shelf/surround for the logbook and papers just ahead of the Eaton shifter, framed the driver's seat, and removed his passenger seat in favor of a tall wooden cabinet just behind the passenger-side window, among much other trim around new carpeting, accelerator and brake pedals and more.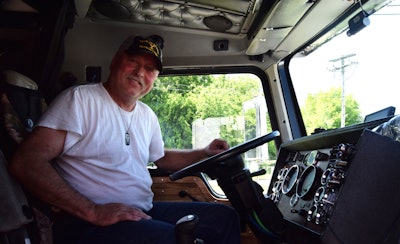 Salmon's work wrapped in April this year, as he continued to wait for bright elbows on back-order -- intended to connect new seven-inch stacks the owner's planning to install. He pulled his first load of 2022 coming east from his West Coast home base the first full week of May. He's still waiting on those elbows, grass-burning, as it were, for now.