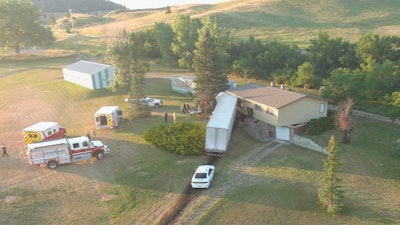 "It happened on Dickson Drive, within the city limits of Sturgis, 6:17 a.m. Wednesday," said Tony Mangan of South Dakota's Department of Public Safety. The rig, a 2020 Volvo pulling a van, was "eastbound on Interstate 90, near mile marker 32, when it left the roadway to the right. The semi-truck and trailer entered the south ditch, traveled through a chain-link fence, across Dickson Drive and entered private property when it went through a yard and struck the front of a residential home."
Both operators in the unit, described as a 68-year-old female with a 63-year-old male passenger, were treated for minor injuries, according to Mangan, thankfully nothing major. As for the home's occupant, a lone 74-year-old male, no harm came to him, but "work is ongoing to stabilize the house and remove the semi-truck."
Mangan noted charges are pending against the driver, who drifted a considerable distance off the highway before striking the house, which visibly shifted the entire second floor off the framing.
Freak accidents happen, but hey, we can all use a reminder time to time to keep alert and on top of maintenance -- you might just avoid a sudden entry into the household goods moving business.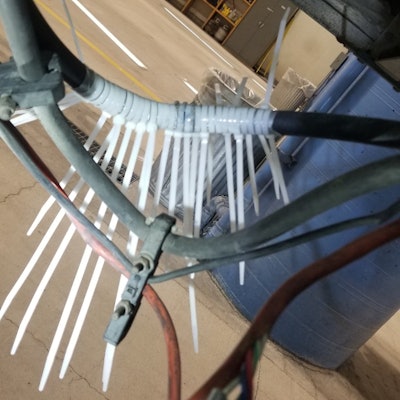 With CVSA's Brake Safety Week right around the corner on August 21-27, now is as good a time as ever to check out some of the more obvious mistakes made when working on brake lines.