The current freight market is as good as it's ever been, and it's showing no signs of slowing down. A majority of large carriers that owner-operator business services provider ATBS recently spoke with expect the current rates environment will continue at least through the end of 2022, if not beyond.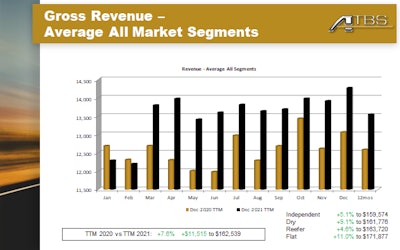 Download the slides from the PIB presentation via this link.
Times may be good for rates, but average owner-operator net income was only up 5.1%, or $3,476, in 2021 from 2020, according to ATBS numbers presented during the Overdrive/ATBS Partners in Business session at the Mid-America Trucking Show on Friday afternoon.
A number of factors go into why income largely stagnated, and it's not all bad. Because rates were so good through 2021, owner-operators were choosing to run fewer miles to bring in a comfortable level of income and take more time off the road.