For the first time in its history, the Truckload Carriers Association's Highway Angel program asked the general public to vote on the 2021 Highway Angel of the Year. At the Truckload 2022 conference this week in Las Vegas, program sponsor EpicVue's CEO Lance Platt introduced the winner of 1,600-plus votes from all over the world, truck driver Christopher Lloyd.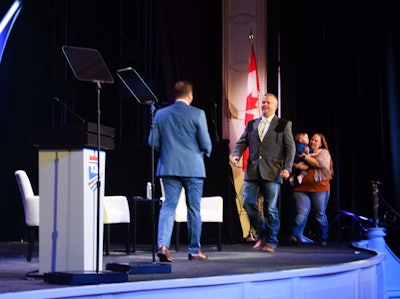 Platt retold Lloyd's remarkable story from the stage, chronicled last year in Overdrive at this link, also excerpted here. Lloyd, based in Mississippi, hauls for Airline Transportation Specialists and had stopped at a crash scene to assist two motorists after their car hit a utility pole and erupted into flames.
Lloyd was driving in pre-dawn hours at the time, late November 2020, along a surface street on his way to the FedEx hub in Nashville. A car had struck a galvanized power pole at a high rate of speed. When Lloyd arrived, the engine compartment was completely engulfed in flames.
"There were other vehicles pulling up and watching, taking pictures, but not getting out to help," Lloyd said. He tried to put the flames out with his fire extinguisher but couldn't put them out completely. He also tried to open the doors but found them locked.
"I ran back to the truck for a winch bar and my 10-pound hazmat extinguisher to finish putting the fire out and to bust out the windows," he said.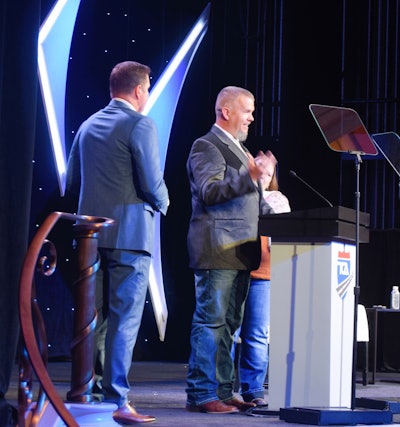 The car's cabin was filled with smoke, and other people were now stopping to help. Lloyd found the female driver pinned behind the wheel.