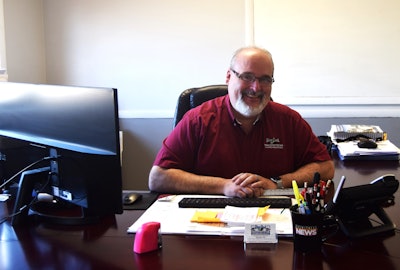 Henderson, Kentucky-based Silver Creek Transportation grew out of the owner-operator business of current owner and President Jason Cowan after he purchased the assets of local aggregates hauler Bob Clark Trucking in the mid-1990s.
Cowan's father, Bobbie, who sadly passed February 12 this year, joined him in the business almost immediately. Bobbie K. Cowan had an agricultural equipment background, owning and operating a John Deere dealership for years, Jason said. When in the 1990s Deere began to transition from a model that prioritized local dealer ownership to what Jason calls "the Caterpillar model," with big multi-dealer networks spread across regions, his father jumped behind the wheel of a 1973 Autocar, one of two tractors in the then four-truck business.
Jason Cowan hadn't been at it on his own long at that point, and with his father moved products locally as well as farther afield hauling anhydrous ammonia for Grammer Industries, headquartered in Indiana due east and north of their Kentucky location.
Cowan fell into the groove of business ownership under the influence of Grammer's safety director, Paul Baute, in those early years as an owner-operator. "Through his wisdom I learned the value of doing everything the right way to the best of your ability," Cowan said. "He showed me the value in being safe, in watching your fuel mileage" and so much else. "He's the smartest guy I've ever known with the regulations. ... We owe a lot of what we have to Paul."
That includes disabusing Cowan of fanciful notions of business value inherent in the old "outlaw" image of yore. "It makes for good movies," Cowan said. "It's fun and nostalgic, but at the end of the day ... everything I don't spend I get to keep. It comes down to some very basic things. We don't want to work 20 hours every day" to make a living. "What's my vision? What do I want to do? How are we going to get there?"
Baute and the wisdom of long experience and so many others around him, it's clear, have made Jason Cowan and his Silver Creek Transportation team what they are today -- a nearly 30-truck fleet with a diverse customer base and poised for further growth. As regular readers will know, Silver Creek Transportation brought home to Henderson Overdrive's 2021 Small Fleet Champ title belt, a feather in the cap of what's now a top-performing, growing team focused on staying true to bedrock values no matter the extent of its success.