Remora Carbon co-CEO and cofounder Paul Gross notes that, unlike a lot of technologies coming to market with greenhouse-gas reduction in mind, affordability is certainly part of what drives the company's moves into actual business -- and ultimate profit for trucking and its smallest players, specifically.
While its mobile-CO2-capture devices and storage tanks -- connecting with a Class 8's exhaust system and mounting to frame rails behind the cab of a heavy-duty truck -- are set to begin piloting for proof of concept/implementation with several larger companies in a matter of months, "the whole reason we started the company is to help owner-operators decarbonize and make some extra money," Gross said. "Our whole goal is to help owner-operators tap into that value."
Depending on an owner's application, region and range, the system could in future make sense once infrastructure for offloading the CO2 is widespread and the market for secondary uses is robust. Costs for a single system, Gross estimated, would pay back in about four years, give or take, depending on just how much the truck is operated.
The payback estimate comes from the value the company sees particularly in the concrete industry's use of the captured CO2. Concrete producers use it to "strengthen the concrete and reduce the amount of Portland cement they use," injecting CO2 into "the curing chamber, where it turns into calcium carbonate," strengthening the product. It's both more sustainable, "and cheaper," Gross said, than CO2 sources most are using today.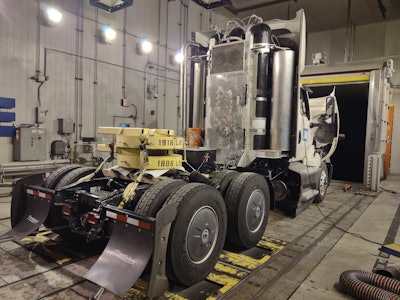 Among fleets set to install the system, predominantly flatbed-hauling company JLE Industries, with around two-thirds of its 400-unit fleet comprised of owner-operated or lease-purchase trucks, expects as many as 20 units to be outfitted with the system by the time of full commercial rollout, said CFO Craig McLane. "We partnered with [Remora] going back to early 2022," thinking of it possibly as an Environmental, Social and Governance (ESG) initiative, increasingly a part of what large customers want to see in any fleet they do business with. "In discussion with enterprise publicly held shippers, as part of their public ESG strategy from a carrier standpoint they're going to come to us" and ask about emissions-reduction efforts and goals. "We'll be able to show better greenhouse-gas metrics."
As noted, depending on "how Remora is able to scale" its own operation, McLane added, "we've got approximately 20 trucks targeted for the initial rollout."